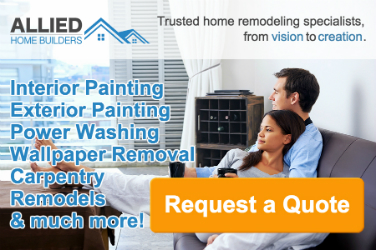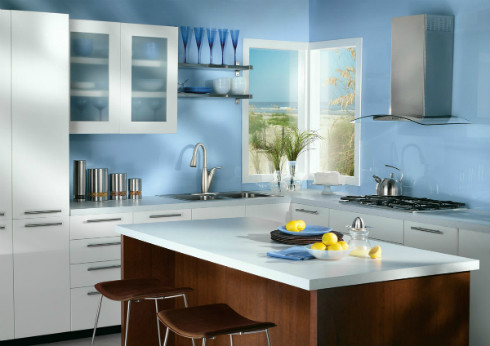 Kitchen Paint Colors Solutions
It's the dream of many homemakers to decorate a kitchen in the best way possible. Since it's often the central area of your home, choosing the house paint colors for a kitchen can be a challenging task. There may be many elements, textures, and surfaces to you need to bring together to make
kitchen paint colors
work, and that can make it a really tough task. This article aims to help you take on this task by giving you some wonderful ideas, and help you choose the
best kitchen paint colors
for your own personal space. Choosing the right colors can have the power of
making a room seem smaller or larger
, hide flaws, change the focus, and set a mood, so selecting good kitchen paint colors can make a significant difference in your everyday life.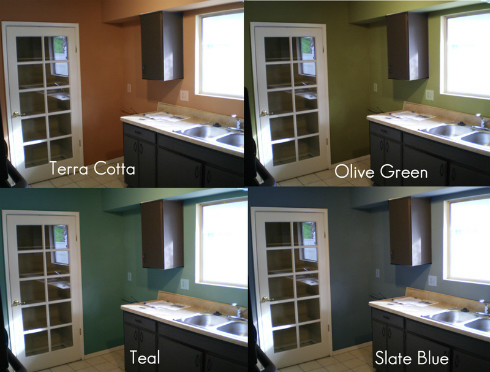 First, you'll need to consider a number of elements when starting work on the colors. Many people start with the cabinets, since they take up much of the surface area and visual perspective of the room. As opposed to choosing house paint colors in other rooms, matching colors to these cabinets is a must for just the right kitchen decor. And to figure out the best kitchen paint colors, you can choose to have the cabinets painted themselves as well. You should also consider the colors of dining tables and chairs, appliances, and especially tilework.
Kitchen Paint Colors with White Cabinets
vs.
Kitchen Paint Colors with Oak Cabinets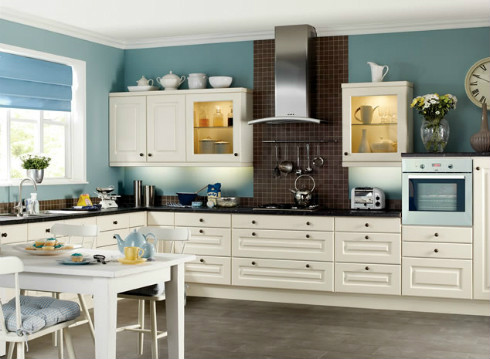 When you're considering the effect of cabinets in making your kitchen paint colors selections, it's important that white or light cabinets are treated differently than oak or dark cabinets. In most cases, you should complement the cabinet tones instead of trying to match them. If your cabinets are white or light in color, the simplest way is to choose a darker shade than the cabinets themselves. With house paint colors in general, this is a good idea. Rather than try to blend architectural elements or protrusions into the rest of the wall, in many cases it's best to accentuate them. This is true here as well, especially with kitchen paint colors with oak cabinets, as complementing these darker tones with lighter wall colors is key to having visual balance.
So keep in mind this important first aspect of your color choices. Kitchen paint colors with white cabinets should typically be darker in tone, and those with dark or oak cabinets should use lighter tones.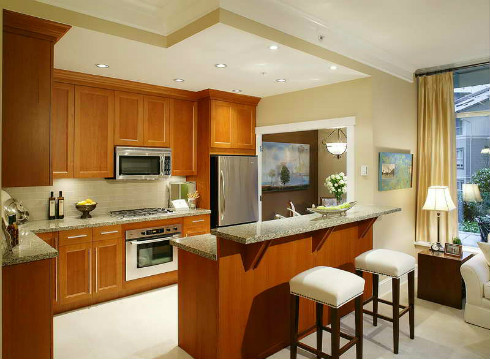 Other elements to consider:
Mood Desired
Use cooler colors for a calmer mood, warmer colors for a livelier mood.
Light and Shade
Cabinets, counters, and appliances all create shadows – test your chips first!.
Textures
Tile patterns, floor patterns, and other details should be considered as well.
And keep in mind that in most cases, it's fair game to paint the cabinets themselves. As with any other room in your house paint colors selections, the most important part is prep work. Make sure the surfaces are cleaned thoroughly, and sanded in most cases as well to create a grippable surface for the paint.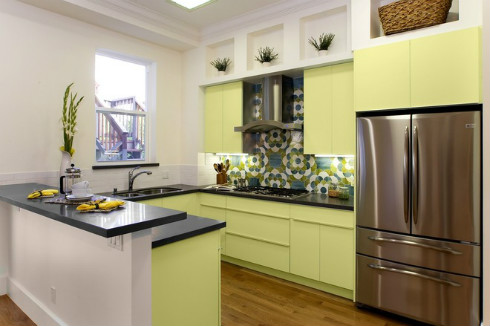 Finally, ceilings are often a forgotten element, so make sure you remember! When you put this much time and effort into selecting your kitchen paint colors, having a ceiling that matches the rest of your intended strategy is key! While many shy away from using darker colors on ceilings, some of the best kitchen paint colors mix up the flat white look by going for creams, putty, or other neutral shades.