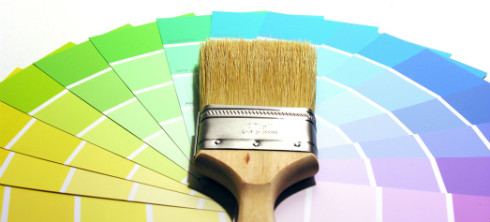 House Paint Colors Solutions
Colors, colors, and more colors, but how do you choose which one is right for you?
On House Paint Colors you will get information on how to choose the right color, where to use it, and of course, lots and lots of color swatches to choose from!
So make sure you come back whenever you need to, and check out all of the color information you will ever need to know!  Fresh
house paint colors
can provide a brand new look and energy to a space, as well as add value to a home. Color not only sets the tone and feel of a room, but also ties together the furnishings and accessories.  In addition, it's important to use colors differently when choosing
interior house paint colors
versus
exterior house paint colors
, since exterior colors will need to coordinate differently with your outside architecture, lawn, and surrounding neighborhood.  This site is intended for home owners, interior designers, contractors, architects, or anyone else that needs a quick way to choose a color for their painting projects!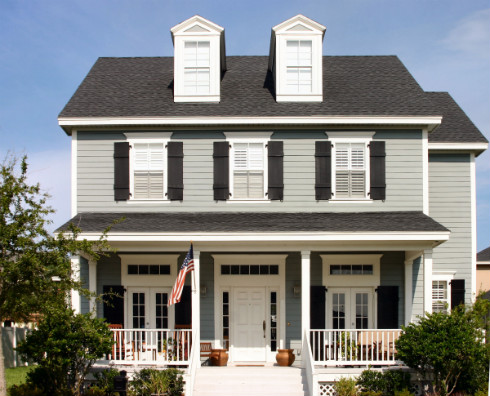 House Paint Colors .net
House Paint Colors contains not only color suggestions and guides, but also all interior and exterior house paint colors from the most popular paint brands – like
Behr
,
Benjamin Moore
,
Sherwin Williams
, and many more.  
Select the drop down menu above or below to get started, or click on one of the brands to the left.
 While most of the colors and come in interior or exterior, it's important to keep in mind that exterior house paint colors need to be treated differently in terms of finish, since they will be exposed to the elements.  Want painting ideas and inspiration for design projects around your home?  Choose the links at the bottom of the left menu to get ideas for your
kitchen
,
bathroom
, or
how to coordinate your house paint colors
to fit your spaces well.  It's important to consider many factors, including what your personal style is, what mood you're going for, what the architecture lends itself to, etc.  For example, a
colonial style
home's colors may contrast significantly from
beach house
paint colors, your personal tastes may be toward the neutral colors versus the brights, or you may be going for a calm mood in a space versus one that has more energy.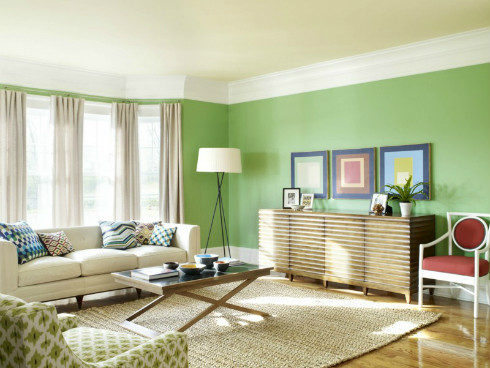 A Quick Guide to Choosing Your Colors:
Step 1:
 Decide on the
intended mood
of the space: warm, vibrant, cool, balanced, etc.  Consider your personal style and personality as well, and what you would want your spaces to say about you.
Step 2:  Analyze how existing elements, architecture, colors, textures, and your personal style might affect your intended mood of the space, especially with interior house paint colors.  A helpful tactic here is to take a picture of the space and use a photo editing program to "paint" the room on the screen to get a preview.
Step 3: Determine how lighting situations might alter your house paint colors.  You should test out some of your final choices of those colors on the walls themselves, either with paint chips or samples painted on the walls themselves.  It's also helpful for when making your final decision on interior house paint colors, to use color scheme rules – like monochromatic schemes, (using shades of a single color), complementary schemes (colors facing each other on the color wheel), or analogous schemes (colors next to each other on the color wheel).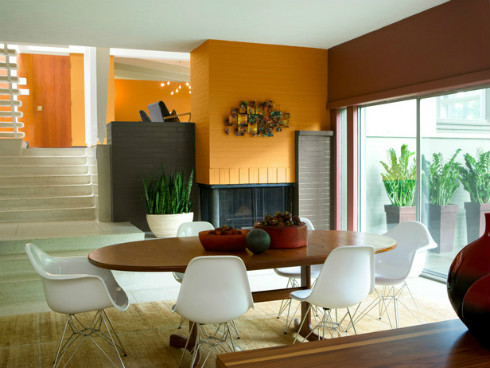 Interior House Paint Colors
If you're planning on selling your home as well, or would like to sell it in the future, keep in mind too that first impressions are everything.  A buyer may ask questions about house maintenance, the condition of your appliances or the quality of your neighborhood and schools, but these factors pale in comparison to the feeling a buyer gets the first time he or she steps into your home.
The exterior house paint colors should be a consideration,
but since most buyers will be picturing themselves living there,
the interior colors should be focused on more.
 If you want to sell your house in a short amount of time and with minimum hassle, not to mention
increase the asking price
, it's critical that the decor is up-to-date and attractive.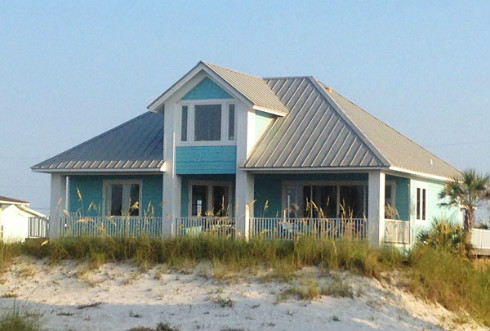 So whether it's interior colors, exterior colors, or even those beach house paint colors you're looking for, when it comes to finding that perfect color, you can be sure we have exactly what you're looking for.  As a previous painter myself, I know personally how frustrating it can be to find just the right color selections to meet clients' needs.  Plus, all those color names and codes to remember!  After seeing very few, simple, online options that I could find colors from all the brands all in one place, I decided to simply make one of my own.  Hope this helps you out as well, and enjoy your search through our house paint colors!